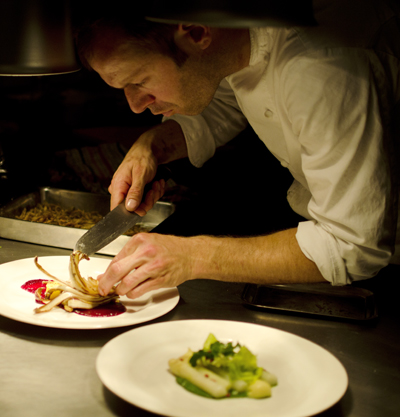 Chef's tasting menu
In our restaurant we serve a set menu that changes with the seasons. You could name it a chef's menu or a table d'hote menu. It is build up in five savoury courses and can be expanded with a cheese plate and a dessert. Within the menu we try to surprise you with a range of flavours. The key role is for the beautiful products that the seasons have to offer us. As soon as you are seated we will welcome you with a range of amuses bouches and our homemade bread. These are included in the menu price.
Optional, but reccomended for the full experience is the choice for a wine pairing. On request we can also prepare a non-alcoholic beverage pairing. The glasses can also be ordered seperately and in smaller sized glasses.
Menu and wine pairing prices
5 courses 59,50 euros – accompanying wines 37,50 euros
6 courses 67,50 euros – accompanying wines 42,50 euros
7 courses 75,00 euros – accompanying wines 47,50 euros
If you prefer you can also opt for fewer dishes. We will be pleased to tailor the number of courses to your wishes.
The current menu is as follows (no rights can be derived from this text)
Fermented kohlrabi, fresh tomato and seabass

Northsea crab, seaweeds and shore vegetables, green tea cream and new potato

Ravioli with mackerel in a sauce of cucumber and ginger

Veal sweetbread, roasted cauliflower and cepes

Wild goose, gooseliver, baked red beets and cherries
Assorted cheeses

Blue and juniperberry with cheese cake soufflé/ Fresh almonds, basilbavarois and lemon cake
Style
People often ask us about our style and although we have been open for nine years, it's still hard to answer in just a few words. We have developed our own style, using influences of our travels, our memories and the things we love. With our thorough knowledge of French, Italian and Asian cuisine, we make well-balanced dishes that bring out the best in seasonal products. We prepare everything in our own kitchen, that's where our challenge lies.
Allergies
Please note that we use allergens in our kitchen. You can call us for more information before your visit or we will explain them to you at the start of the evening. We are unable to prevent cross-contamination.
Time
Preparing our dishes takes time and we are keen to let you taste as much as possible of what we have to offer. So you can usually expect to spend the whole evening at our restaurant. We don't want to rush things, so we hope you have the time to enjoy our food.